Under the Ex-servicemen's Contributory Health Scheme, one polyclinic has been opened in every district of the country. But a lot more needs to be done to help the growing community of defence veterans
Brig M.L. Kataria (retd)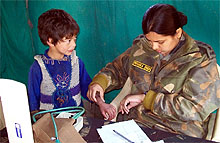 WANT MORE: As the healthcare system becomes advanced, ex-servicemen's polyclinics need specialists. Tribune Photo/Mohd Amin War
A historic decision was taken by the Government of India, Ministry of Defence, in December 2002 to provide comprehensive health care to 10 million ex-servicemen and their entitled dependants, through Ex-servicemen's Contributory Health Scheme (ECHS), which was launched in January 2004. There is no parallel to this gigantic healthcare project for ex-servicemen and their entitled dependants.


The Scheme was envisaged to provide an ECHS polyclinic in every district of the country. To start with a total of 227 polyclinics, 104 in military stations and 123 in non-military stations, were established. Over the years 200 more polyclinics have been added. Thus, there are 427 polyclinics scattered all over the country. This number will further increase.
In order to take off the workload on military hospitals, nearly one thousand private/civil hospitals and diagnostic and specialty centres have been empanelled across the country for referral of patients by the ECH polyclinics annually and about one million have been referred for diagnosis, treatment and admission annually to the empanelled centres.
The annual budget outlay of the Ministry of Defence for ECHS is Rs 1,500 crore, which will escalate with each passing year. Therefore, an in-depth review of the functioning of ECHS for the last ten years is necessary.
Review committee
The ECHS needs a review in toto, including the type and functioning of the polyclinics, the requirement and composition of the regional directorates, empanelment of private/civil hospitals, specialty and diagnostic centres and their rate structures.
The proposed review committee should have experts from various fields like medical, finance, management, bio-medical equipment and 
ex-servicemen.