The real challenge is to understand the Chinese psyche and decode the thinking of its leadership. This demands the building up of a strategic culture through collective wisdom and formulation of a long term policy.
Maj Gen G.G. Dwivedi (Retd)
Chinese troops parade in Beijing. China has consistently refined its military doctrine in consonance with threat perception and accretion in its military capability.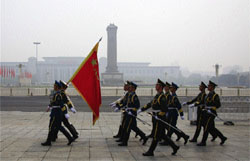 MANY people seem to know China, but very few understand it, according to eminent scholar Derek Bodde. Those who deal with China often feel frustrated and bewildered, when actions of the Chinese leadership send mixed signals, making clear interpretations extremely difficult. This is primarily due to the lack of insight into Chinese psyche, its strategic culture and functioning of the Communist system.
In his book, Understanding China, Henry Kissinger states, "China sees itself a returning power and does not view the prospect of a strong China exercising influence as unnatural." Lee Kuan Yew opines that the People's Republic of China (PRC) is wise not to repeat the mistakes of Germany and Japan to challenge the existing order during the course of its resurgence. Although, China projects its rise as a peaceful one, yet it stands alone, without any trusted allies.
The unsettled border coupled with rapid pace of China's defence modernisation, is a matter of deep concern for India. Despite the debacle in 1962 and numerous incidences on the Line of Actual Control (LAC), India has failed to formulate a pragmatic China Policy. The tendency to underplay the Chinese threat and a passive attitude has only emboldened the PRC. Recent transgressions by the Peoples Liberation Army (PLA) in Ladakh are case in point.
Lately, India seems to have woken up to the reality of China's growing military might. However, the Dragon's assertiveness can only be checkmated by building up the requisite capability. To this end, it is prudent to decipher Chinese strategic thinking and undertake an introspection of its war fighting doctrine.
Chinese Strategic Calculus
China's grand strategy aims to achieve its clearly defined national objectives -- defending sovereignty and territorial integrity, maintaining internal stability and sustaining economic growth — essential prerequisites to attaining great power status. Any threat to the rule of the Communist Party is unacceptable.
The PRC remains hyper sensitive to its periphery as peace around it is essential to maintain the pace of progress. Safeguarding its core national interests, which include Taiwan, Tibet, Xinjiang and the South China Sea, is paramount, where it is even inclined to use force. As per China's threat assessment, the US and Japan are perceived to be the prime security concerns. India is seen as a potential threat.
China's thinking since ancient times professed that best way to respond to threat was to eliminate it. Its classics stressed the value of violent solutions to conflicts and offensive over defensive strategies. When confronted with a more powerful opponent the strategy is flexible; employing non-coercive means, but only as an interim expedient.