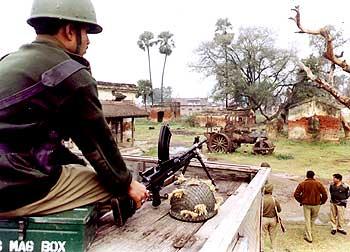 The might of the Indian State is in the Naxal-affected areas. 71 battalions of central paramilitary forces, amounting to some 71,000 personnel, have been deployed. They have a vital role to play in backing the state police and in developmental activities.
The Collector of LWE-affected Balaghat in Madhya Pradesh told me recently how the presence and approach of the CRPF in the area had a considerable psychological impact enabling villagers to come out in large numbers to seek employment under Mahatma Gandhi National Rural Employment Guarantee Act.
But let us be clear, paramilitary and police action cannot and should not be the driving force.
The driving force has necessarily to be development and addressing the daily concerns of the people, of people who have every reason to feel alienated.
Massive reform of the police and the forest administration at the cutting edge is the need of the hour.
A more humane policy of land acquisition with focus on effective rehabilitation and resettlement (R&R) is the need of the hour.
I think it was Walter Fernandes, the noted sociologist, who estimated that over 50 million people in central and eastern India have been displaced over the past five decades due to developmental projects. R&R for very large numbers of people has yet to be completed.
Worse, there are large numbers of tribals who have been subjected to repeated displacements.
It is not the Naxals who have created the ground conditions ripe for the acceptance of their ideology -- it is the singular failure of successive governments, both in the states and governments to protect the dignity and the Constitutional rights of the poor and the disadvantaged that has created a fertile breeding ground for violence and given the Naxals space to speak the language of social welfare but in reality use that as a cloak to construct their guerrilla bases and recruit most tragically women and children in large numbers.
So where do we go from here?
Let us not underestimate the seriousness of the threat we are faced with. I, for one, do not believe that a 'developmentalist' strategy alone, so eloquently advocated by the Planning Commission's Expert Group, will do.
I also do not believe that a strategy based on the primacy of paramilitary and police action will yield long-term results. The two must go hand-in-hand deriving strength from each other.
We are combating not just a destructive ideology but are also confronted with the wages of our own insensitivity and neglect, especially in so far as the central Indian tribal population is concerned.
Simply put, we need to rise above partisan political considerations and set aside old Centre versus state arguments and work concertedly to restore people's faith in the administration to be fair and just, to be prompt and caring, to be prepared to redress the injustices of the past, and to be both responsible and responsive in future.
Only then will the tide of Naxalism be stemmed.